Floris Vanhoof Talks Audio-Visual Exploration
Interviewed by Kraus
Originally published 17th October, 2018
Floris Vanhoof
is a multimedia artist and musician from Antwerp, Belgium. Utilising obsolete technologies, such as homemade synths and modified film projectors, he creates mind-blowing live audiovisual experiences of flickering colour and synthetic sound. Visiting New Zealand for the first time, Vanhoof will perform at the
Nowhere! Festival
in Auckland on 18th October, tour Aotearoa in November, and present an
exhibition of works
in the Audio Foundation's gallery space running until 1st December. Auckland musician
Kraus
asked him a few questions about his upcoming national tour...
Kraus:
Tell me about your current performance practice. What is the film that you're projecting?
Floris Vanhoof:
In recent years I have developed installations where the illusion of moving images is generated with 4 flickering slide projectors. And during live performances the timbre of my modular synthesiser was controlled with my brainwaves via a converted EEG device.
From this the desire arose to combine this into a new work: a brain-controlled film projector. Five electrodes on my head measure my concentration level, this information is sent via Bluetooth to the circuit that controls the motor of the projector. The projector goes at the regular speed of 24 frames per second, when I'm focussed and slows down when I'm not concentrated or think about sleep. While I watch the movie, I become part of the circuit and a feedback path is created.
I'm looking forward to bring this projector. The last film I made for this projector has lots of overlapping colours that kind of pull me inside the screen when I'm looking at it.
Kraus:
You're building a new analogue synthesizer for this trip. Do you ever use digital technology, or are you a 100% analogue artist?
Floris Vanhoof:
I love primitive technology, both analogue and digital. In the expo I'll make at Audio Foundation ("The Fluid Computer" opening 7th November), there will be very long strings of binary code. Instead of using the "ones and zeroes" as computer language, I like to listen to the sound of it, filter it, and swing them around with a rotating loudspeaker.
I will be traveling with a synthesiser that I have made and changed over the last 9 years. It's not a completely new system but I'm very pleased with the addition of a new module that lets me scan through different parts of the digital code.

Kraus:
What are the strengths of analogue technology?
Floris Vanhoof:
Some old analogue technology gives me the sharp focus that is essential to work on new ideas.
Composer and music software pioneer Laurie Spiegel says a nice thing about abandoned technologies: "There are little doorways to paths not yet taken and potential not yet realized in many technologies that are bordering on extinct or that maybe could be revived."
After finding animals from 200 million years ago, as an amateur fossil hunter, analogue technology from 50 years ago doesn't feel old to me. And of course it's fun to use analogue technology in this Digital Age and project 16mm film at the end of the Cinema Age.
In the end, every digital circuit is also an analogue circuit, in that the behaviour of any digital circuit can be explained using the rules of analogue circuits.
Kraus:
You've toured extensively in Europe and America, but never been to the South Pacific. Why do you want to come to New Zealand?
Floris Vanhoof:
Lately I've mostly build exhibitions and did one off concerts, but touring might be my favorite art form.
Being from the complete opposite side of the world, your country has always spoken to my imagination. About ten years ago, Michael Morley from Dead C projected a video recording of a beautiful misty valley as a backdrop for his concert in Brussels. Word was out he recorded this in his back garden. This view, combined with the sound of A Handful Of Dust, Futurians, Birchville Cat Motel and all, is how I'm imagining New Zealand. Plus my friends Lieven Martens (Dolphins into the Future) and Spencer Clark (Monopoly Child Star Searchers, The Skaters) are still enthusiastic about the NZ tour they did years ago.
I'm very curious to see the
Musical Electronics Library
, I think this is a powerful idea and every city needs one.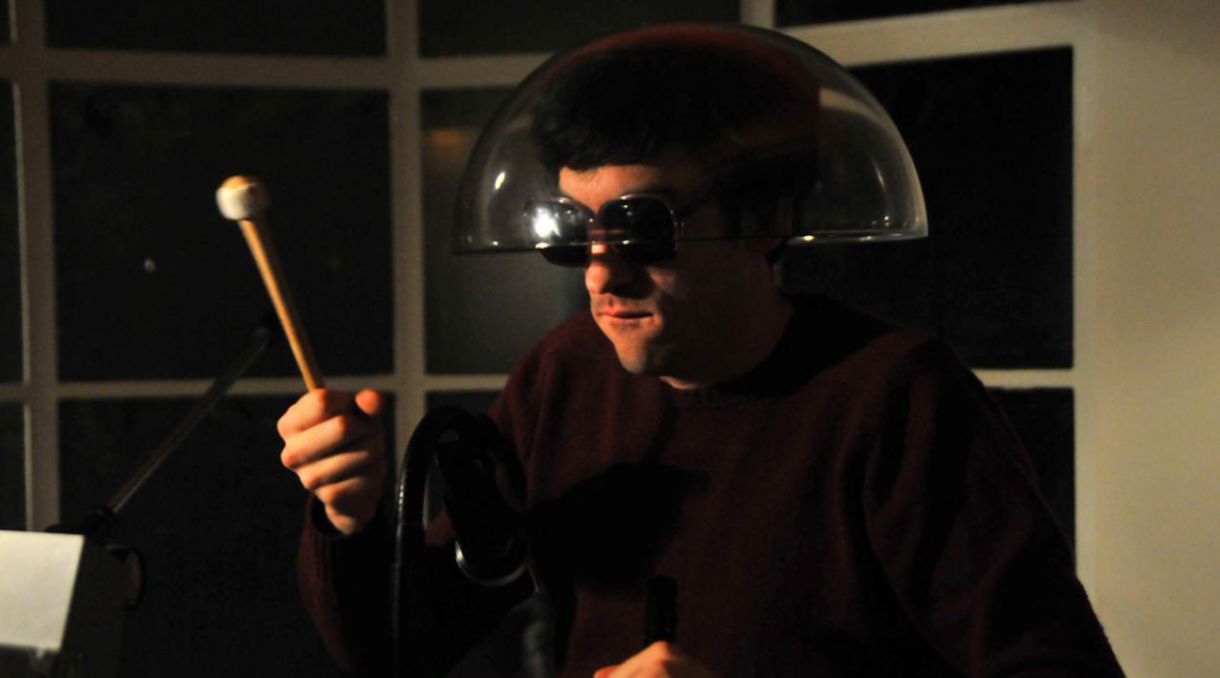 Floris Vanhoof