Ducklingmonster's Dating Spots For Sound Nerds

Annotated list in response to the sound interest of nineteen of the thirty IPENZ Register engineering heritage sites in Auckland

---
First published on the Soundbleed Online Journal in 2013

Auckland Ferry Building
Mum says that the water is up to King-Kong shoulders. Lapping under the board walk. Chatter and yapping of lil' bourgeoisie dogs. A plaque form 1990 recognises the building's engineering significance. Sesquicentenary is a word full of oscillating syllables.
Auckland Harbour Bridge
Listened to from underwater. City-side late night swimming at Home Bay. The red lights on the water and the hum of the bridge. How do the future Octopuses see this bridge? They think it's a rib of a giant whale. "All the time, it was…. We finally really did it"
Auckland Motorways
Kingsland hurmmmm.
SH1 & SH16
Road-trip soundtrack. Hooning it with Angel. Fiat van sounding car. Our gear rattling in the boot. Bent Wind, ESG, Hawkwind, Flower Travelling Band.
Chelsea Sugar Refinery
A quiet wander through the sugary park
Civic Theatre
There is too much to say. Goblin, Taniwha, Arabian Desert, temple of doom, Mos Eisley Cantina.
Grafton Bridge
The Hairdos "At the graveyard! At the Graveyard!!"
K Class Locomotive
Chuf-chuf.
Kelly-Tarltons Under Water World
Octopus went there on a band trip. Quiet in the tunnels with the fishys all around us. Fake bubble soundtrack and instructional audio.
Mangere Wastewater Treatment Plant
Went there on a school trip in Form 2 and a girl in my class got an airborne skin infection on her face. GROSS OUT SQUEAL! Now there is lovely walkway around the restored wet-lands. You can hear bar-tailed godwits, lesser knots, turnstones, golden plover, stints, whimbrels, sandpipers, oystercatchers, pied stilts and wrybills
Museum of Transport and Technology (MOTATT)
The dreamland.
Musick Point Radio Station
Colonial voices on a Pa site. The building is of that favourite deco style that mimics a machine.
North Head Waitemata Harbour Coastal Defence
Yes! The echo tunnels. See Rachel Shearer ' North Head' 2003
NZ Steel – Iron-sand to Steel Process
Contact microphone on an iron pipe partially filled with iron-sand. Tipping it slowly it sounds like rain.
Pump-house – MOTAT
Free outside the fence in Western Springs. Follow the fence round to the free zoo where lions roar.
Single Wire Earth Return (SWER)
Tickticktick like Omit. (See image)
Stony Batter Gun Emplacement
Insectoid white noise. Cicadas in the Summer time.
Upper Nihotupu Dam and Waitakere Ranges Water Supply System
From above on the Rainforest Express. Flooded valleys of bird sounds. At night the Ruru, Possums horror-film breathing and maybe, if we are lucky, the squeaky little bats.
The IPENZ Engineering Heritage Record and Register is overseen by IPENZ Engineering Heritage Board and the local chapter.
IPENZ Engineers New Zealand. (2012) Heritage Records. Retrieved from
http://www.ipenz.org.nz/heritage/SearchResults.cfm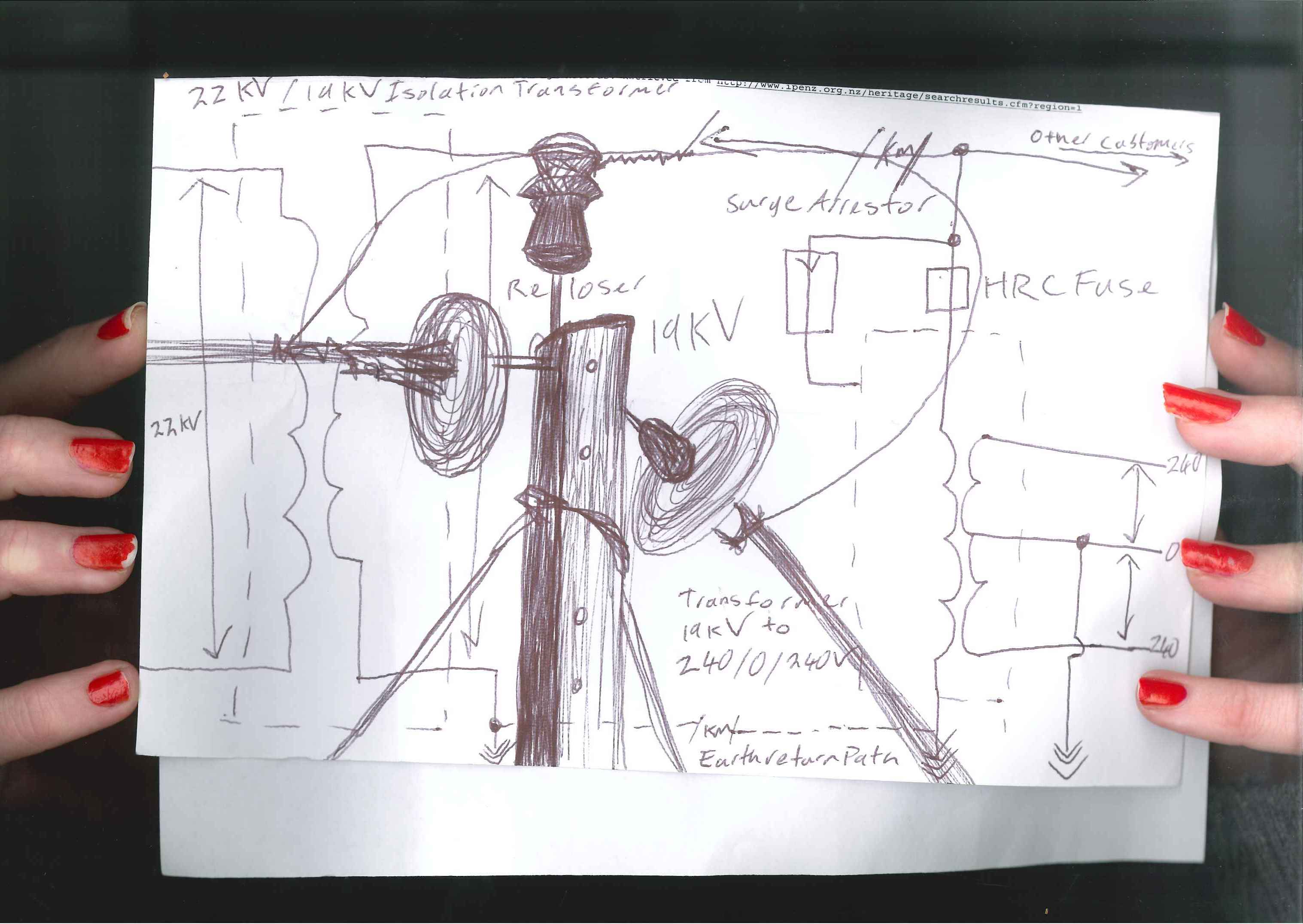 Ducklingmonster
plays in The Futurians, It Hurts, and the Maltese Falcons. She has also played in Octopus, the Ghastlies, Rise of the City Cat Cult, Panda Battle Battle Panda, LD50, the Shutups, Static, Zombie!Fuck?, 5 Satans, Richard and the Hadlees, Vulcan Steel, the Windups, the Murdering Monsters, and Evidence X. Ducklingmonster is a performer, DJ, cartoonist, librarian, fashion designer, curator, visual artist, zine maker, cultural engineer, and radio show host.